Blessed to help young people grow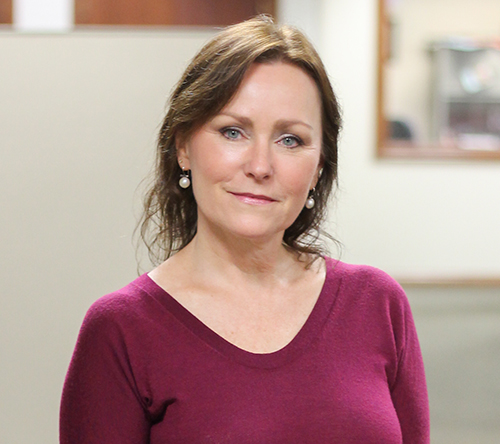 Pam Warmoth had dreams of being a pediatrician when she was in high school. While those plans of caring for children had detours that never got back on track, she says she's OK with that. Her 31 years at Boone REMC, the last eight as human resources director, have been fulfilling and even similar in many ways.
"I am so proud of the work I do. I really feel as if it's just such a …," she says with a hitch, her thoughts knotting in her throat, "… it's just such a blessing to get to see my people grow. It's just so exciting to see people come in and find what they're passionate about and help them grow in that area and develop a lifelong career. It's like watching my children grow."
Pam joined her hometown electric cooperative in 1991 as a cashier. She handled the daily cash flow, among other tasks. Six months in, the executive secretary at the Lebanon-based cooperative took a new position at the organization. The CEO at the time, who'd only been there a year himself, asked Pam if she would consider being his assistant.
Flattered, Pam said she couldn't see herself in that role. She had done some accounting after high school in a previous job and could process billing statements. "But I didn't type so well," she said.
She accepted the offer – although she wasn't sure about the move –  and began working closely with the CEO and the board of directors as executive secretary. And she did that for the next 23 years.
In the meantime, she made the best of the benefits Boone REMC offered and continued her education. In 2007, she earned her bachelor of science degree and then in 2012, received professional certification in human resources. She also began taking leadership and professional development training through the statewide trade association.
As the cooperative grew over the years it became clear more focus was needed on human resources. She took a step into her current position. 
Now, much of her job is helping onboard younger employees into a place she said is like family, and finding their careers — as she did — while always working for the end consumer. "I sincerely love what I do. I have a great family here, and I love all my people. It really fits with things that are near and dear to my heart."
1991 HIRED
Cashier
Processed bill payments and daily cash flow
1991 PROMOTED
Executive Secretary
Provided administrative assistance to CEO, board of directors, and senior staff
2014 PROMOTED
Director, Human Resources/Executive Assistant
Directs the talent strategy and talent acquisition process; directs or facilitates employee orientation and onboarding, compensation and benefits, reviews, education and training, wellness program; develops and maintains company policies and procedures;