Finding a 'gem' of a career in her own backyard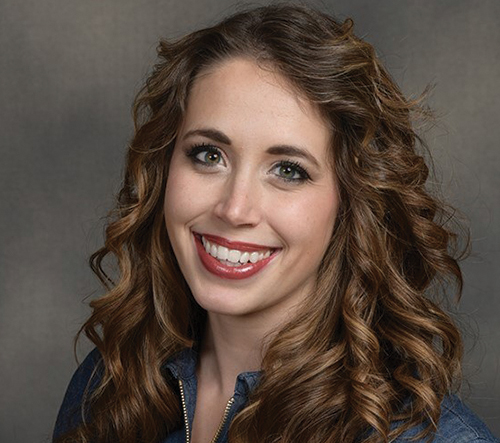 Samantha Kuhn grew up surrounded by all things electric cooperative. For most of her life, her dad was a cooperative CEO, including the CEO of Kosciusko REMC in northern Indiana.
But as a college student interested in journalism, she never dreamed she'd follow her dad's footsteps into a career at an electric utility … until she discovered all the different career gems the cooperative world contained. "I had a love for writing, wordsmithing, storytelling," Kuhn said. "But when I found out the cooperatives had a magazine with statewide-level journalism, I was sold."
Today, Kuhn is marketing and communications manager at Paulding Putnam Electric Cooperative, which serves consumers in northwest Ohio and northeast Indiana. She also provides contract services in that position for three other northwest Ohio electric cooperatives.
After college, she went to work for Ohio's statewide trade association based in Columbus. As she and her high school sweetheart made plans for marriage, she knew she'd have to find something closer to home. Her fiancé was tied to a family RV business in northwest Ohio. 
"The great thing about the co-op world is people really care about their employees. Four Northwest Ohio co-ops, which I had fostered relationships with as associate editor of the Ohio electric cooperative magazine, were able to build a shared services position to fill a need the co-ops had in that area for communication," Kuhn said. She was hired by Paulding Putnam but divides her time among four cooperatives in the area.
In the communication positions, she writes, designs and manages various communication materials, news releases, social media messaging and marketing campaigns. "Every day is different — from designing to writing. Every day is something new. And I like the challenge of working with four different companies and building relationships," she said.
She also loves the culture of cooperatives and the concern they have for their communities, consumers and employees. "It is a good job for your soul," she said. "Community service is part of the job description. We prioritize training, development, and a family atmosphere. We wear so many hats that every day is a challenge. So, growth opportunities are endless, and people are able to flourish if they choose to," she said.
"If you are able to find the hidden gem that co-ops are, it's impossible not to fall in love and want to stay and grow yourself."
2016 HIRED
Associate Editor
Ohio's Electric Cooperatives
2018 HIRED
Communications Coordinator
Paulding Putnam Electric Cooperatives
2021 PROMOTED
Marketing and Communications Manager
Paulding Putnam Electric Cooperatives