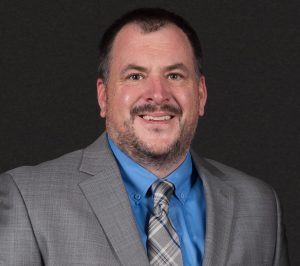 T.J. Garner has worked for an electric cooperative for about five years. While that may not seem like a long time, he's gone from fixing water heaters and helping consumers with high bill complaints to being the right hand of the CEO as chief operating officer. Yet, he still visits face-to-face with consumers investigating high bill complaints at their homes, and that's what he loves about working for Fulton County REMC in northern Indiana.
"I'm still working as the energy advisor," says Garner. "We're a small cooperative; that's the nice thing about this job. I love helping our members. If I can help them save $5 a month on their utility bill, that means a lot to me."
Before coming to Fulton County REMC, Garner was a plumber and then worked in a local school district and as the facility director. Though he was a member himself of the electric cooperative and had grown up receiving power from the cooperative, he wasn't aware of the importance of the member-consumer — that cooperative difference — when he became the cooperative's member services technician. His supervisor instilled in him the importance of the consumer. "I'm fortunate because he showed me what members were all about, and he really drove that home. That's stuck with me since."
When that supervisor retired in 2019, Garner moved up into his role as manager of member services. Along with taking on a supervisory role over two technicians, he was able to do what became a favorite part of his job: working with the community youth in the 4-H electric program. "Teaching those fourth-grade kids how to build a circuit board is probably my favorite thing, that interaction with kids."
Garner was elevated to the COO when the position was created in 2020 to assist a CEO nearing retirement. But while Garner was helping run the operations, he was also still working closely with the consumers. "I enjoy calls from consumers," he said, "even if it's a complaint. I like to try to resolve the problem. I don't want an unhappy member."
Garner is kind of an "old soul" when it comes to electric cooperatives because cooperative values harken back to values many other businesses today seem to have lost sight of — that is caring for the consumer and the community they serve. Garner said it's incredibly important that cooperatives, as they grow and evolve, don't lose sight of those original core values.
And, for a guy who's been at a co-op for a relatively short time, he's now sounding like most folks who've come to work for one. "Now that I'm in a co-op, I don't ever see leaving a co op."
2017 HIRED
Member Services Technician
2019 PROMOTED
Manager of Member Services
2020 PROMOTED
Chief Operating Officer/Energy Advisor